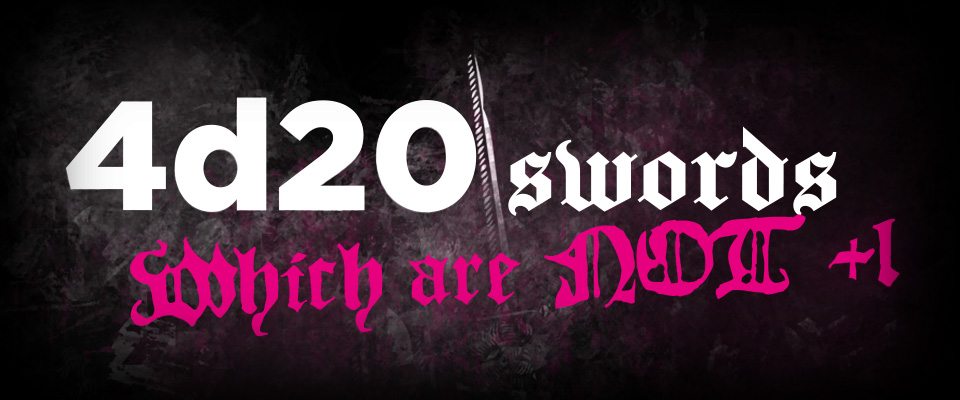 4d20 Swords which are not +1
As you pick up the weapon you feel power and dread. It has history, it has a will. It wants you to kill. It enables you to kill. You're not the same anymore.
Roll 4d20 to make a sword which will enable you to deal some damage, but watch out because nothing is enherintly good. You could end up with:
(table 1) A Falchion (table 2) which looks rusty and worn. (Table 3) This weapon stinks, repulsively. Swinging it will make enemies vomit. Carrying it into a city is a guaranteed way to get thrown in the cells. (Table 4) But a small boil appears on your hand. A day later on your other hand. Within a week your body is covered. People will notice you. (Table 5) Where to find the sword? A troll took it back to his nearby dungeon and intends to use it as a wedding present.
If you want to go on a quest to locate a fantastic treasure roll and extra d20 and get a rumour as to where the sword might be.
These swords are made for MÖRK BORG but are made as system neutral as possible, so they should fit right into your b/x, OSE or general OSR-adventure.
I want to thank all the good people who helped make this possible.
JimmyShelter – who is the reason for the JS-initials in table 3, entry 18.
Anders Dahl Kramer who helped spell-and-sense-check everything!
Thor Noe who also helped readthrough everything.
Philipp Teich who did ISBJÖRN which is in table 5, entry 12.
And all the good people on various Discords who helped me with this.
"4d20 Swords which are not +1" is an independent production by Philip Jensen and is not affiliated with Ockult Örtmästare Games or Stockholm Kartell. It is published under the MÖRK BORG Third Party License.
MÖRK BORG is copyright Ockult Örtmästare Games and Stockholm Kartell.
Download
Click download now to get access to the following files:
4d20 swords which are not +1_03.pdf
1 MB
4d20 swords which are not +1_print-friendly.pdf
846 kB